The journal Innovations: Technology and Techniques in Cardiothoracic and Vascular Surgery published in the March/April 2010 issue the article "Tangential Triangular Resection: An Option to Treat the Giant Left Atrium", authored by Dr. Pablo Pomerantzeff, Carlos Manuel Brandão, Marco Guedes and Noedir Stolf. The study shows the technique of tangential triangular resection developed by cardiovascular surgeons of Incor for the correction of giant left atrium. It is noteworthy that the illustration of the Case Report has been chosen by the editors of Innovations to compose the cover of the Journal (Figure 1).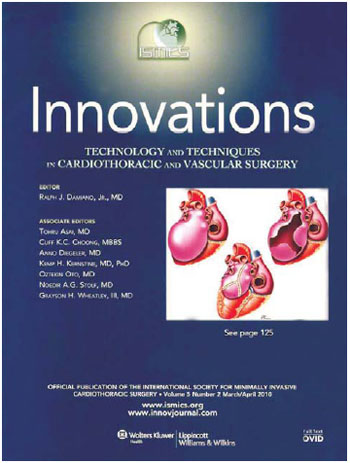 Fig.1 - Front cover of the issue 5 (2) of the Innovations journal with the illustration of the technique developed at Incor
The Brazilian Journal of Cardiovascular Surgery congratulates the colleagues who have shown once again through this achievement, the strength of cardiac surgery in Brazil.
The abstract can be accessed by the link
http://journals.lww.com/innovjournal/Abstract/2010/03000/Tangential_Triangular_Resection_An_Option_to.11.aspxx
March/April 2010
Tangential Triangular Resection: An Option to Treat the Giant Left Atrium
Pomerantzeff, Pablo M. A. MD, PhD; Brandão, Carlos M. A. MD; Guedes, Marco A. V. MD; Stolf, Noedir A. G. MD, PhD
Abstract
A 21-year-old woman presented with congestive heart failure caused by congenital mitral and tricuspid insufficiency, associated with great left atrium enlargement. Transthoracic echocardiogram revealed heart dextroversion associated with mitral and tricuspid severe insufficiency and left atrium enlargement (14cm), confirmed by magnetic resonance study. The left atrium was reduced by a tangential triangular resection of the posterior wall, between the pulmonary veins, suturing the edges of the left atrium with bovine pericardium strip reinforcement. Mitral and tricuspid valves were repaired. The postoperative course was uneventful, and the patient was discharged in the 15th postoperative day. A control magnetic resonance study revealed a 50% reduction in left atrium size. Evolution of left atrium resection is excellent, with low recurrence of arrhythmias, embolism, or heart failure.