Surgery Study receives the VI ABC Award of Scientific Publication
On the last 6
th
December, during a ceremony held at the Hotel Maksoud Plaza, São Paulo, Brazil, was handed the VI Scientific Publication Award. This award was established in 2005 by the Brazilian Society of Cardiology (BSC), aiming to encourage the development of technical and scientific studies.
The Award is intended for authors of the top five original articles published in the journal Brazilian Archives of Cardiology, throughout the year 2010.
Among the five winners of the Prize, is the study of surgery entitled "Endoscopic Left Sympathetic Blockade in the Treatment for Dilated Cardiomyopathy" by Paulo M.Pêgo-Fernandes, Luiz Felipe P. Moreira, Germano Emílio C.Souza, Fernando Bacal, Edimar Alcides Bocchi, Noedir Antônio G. Stolf, Fabio Biscegli Jatene (available at: http:// www.arquivosonline.com.br/2010/9506/pdf/9506002.pdf).
As announced in previous edition of BJCVS, this study has been highlighted at the congress of STS/2010, received the award "Best Applied Research Award Luiz Veneré Decourt", at the SOCESP/2010 Congress, and was also awarded during the IX Brazilian Congress of Heart Failure - GEIC/2010. This study aims to assess the feasibility and safety of the cervical-thoracic sympathetic block by clipping via left thoracoscopy in patients with systolic heart failure, and explores its effect on the cardiovascular system. The initial data are promising and suggest that this procedure can be an effective alternative approach to the sympathetic blockade in the treatment of dilated cardiomyopathy.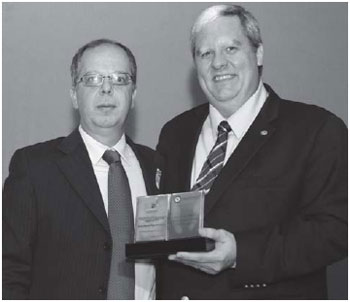 Dr. Paulo Manuel Pêgo-Fernandes receives the award from hands of the SBC Communications Director, Miguel Antonio Moretti Photo: Sebastian Gondim, kindly ceded by SBC