ABSTRACT
Regardless the successful treatment of the descending aorta with endovascular prosthesis, for the ascending aorta segment, because of several anatomic and physiologic issues, this technique has been considered an alternative only for high-risk or inoperable patients. Despite restricted indications, hundreds of treatments have been performed worldwide, demonstrating its safety and reproducibility if it is done in high-quality centers. Therefore, understanding patients' selection criteria and technique limitations are critical to its application.
ABBREVIATIONS AND ACRONYMS
BCT = Brachiocephalic trunk
CT = Computed tomography
ESC = European Society of Cardiology
GREAT = Global Registry for Endovascular Aortic Treatment
SG = Stent graft
STJ = Sinotubular junction
TAAD = Type A aortic dissection
TEVAR = Thoracic aorta endovascular repair
INTRODUCTION
The concept of treating the ascending thoracic aorta with endoprosthesis emerged after the first-in-man successful case described by Dorros et al.[1] in 2000. Since then, several studies have reported the safety and effectiveness of the ascending aorta endovascular repair.
Despite this, contrasting with the descending aorta, where thoracic aorta endovascular repair (TEVAR) is well established[2,3], for proximal aortic disease, open surgery is considered the gold standard for treatment, although less invasive procedures are achieving an important role, especially in high-risk or inoperable patients.
The need for an alternative treatment becomes even more relevant when considering that more than 20% of the patients with type A aortic dissection (TAAD) are deemed inoperable[4]. In this context, ascending TEVAR could have potential advantages, such as absence of thoracotomy incision and need for partial or total extracorporeal circulatory support, as well as lower hospital morbidity rates and shorter length of hospital stay when compared to open surgery[5,6]. This was already well established on our initial experience[7] (Figures 1 and 2).
Fig. 1 - Computed tomography post stent graft in ascending aorta.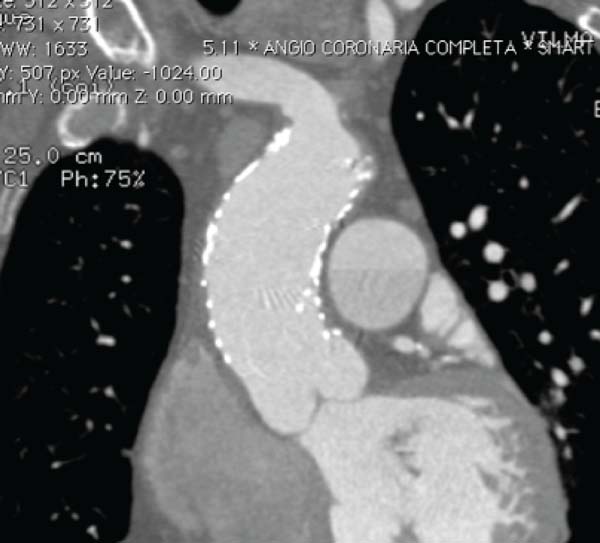 Fig. 2 - Computed tomography, axial view, post stent graft in ascending aorta.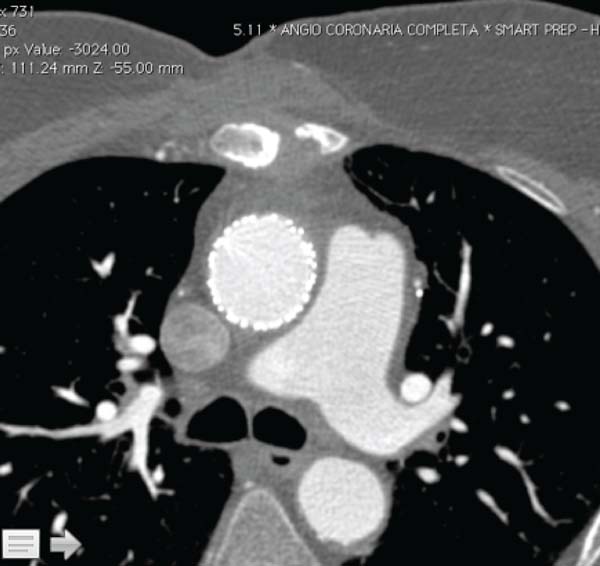 CONCLUSION
Ascending aorta TEVAR represents the final frontier of endovascular therapy and it is well proven to be a lifesaving procedure in selected patients, using customized or off-the-shelf endoprosthesis. There are still several anatomical, physiological, and technical challenges, such as the short distance between coronary arteries and BCT, aortic valve regurgitation and obstruction, high hemodynamic forces, angulation, coronary arteries, and cerebral perfusion. Potential serious complications like aortic dissection, rupture, coronary and BCT obstruction, and aortic valve damage require a well-trained multidisciplinary team in a hybrid room environment. Therefore, understanding patients' selection criteria, limitations of the technology, and development of dedicated devices are critical to its application. Trials are needed to provide evidence-based data.
REFERENCES
1. Dorros G, Dorros AM, Planton S, O'Hair D, Zayed M. Transseptalguidewire stabilization facilitates stent-graft deployment for persistentproximal ascending aortic dissection. J Endovasc Ther. 2000;7(6):506-12.doi:10.1177/152660280000700612.
2. Cheng D, Martin J, Shennib H, Dunning J, Muneretto C, Schueler S, etal. Endovascular aortic repair versus open surgical repair for descendingthoracic aortic disease: A systematic review and meta-analysis of comparativestudies. J Am Coll Cardiol. 2010;55(10):986-1001.doi:10.1016/j.jacc.2009.11.047. [MedLine]
3. Nienaber CA, Kische S, Rousseau H, Eggebrecht H, Rehders TC, KundtG, et al. Endovascular repair of type B aortic dissection: Long-term results ofthe randomized investigation of stent grafts in aortic dissection trial. CircCardiovasc Interv. 2013;6(4):407-16.doi:10.1161/circinterventions.113.000463.
4. Trimarchi S, Nienaber CA, Rampoldi V. Contemporary results ofsurgery in acute type A aortic dissection: The International Registry of AcuteAortic Dissection experience. J Thorac Cardiovasc Surg. 2005;129:112-22.doi:10.1016/j.accreview.2005.04.039.
5. Hiratzka LF, Bakris GL, Beckman JA, Bersin RM, Carr VF, Casey DE Jr,et al. 2010 ACCF/AHA/AATS/ACR/ASA/SCA/SCAI/SIR/STS/SVM Guidelines for thediagnosis and management of patients with thoracic aortic disease: a report ofthe American College of Cardiology Foundation/American Heart Association TaskForce on Practice Guidelines, American Association for Thoracic Surgery,American College of Radiology, American Stroke Association, Society ofCardiovascular Anesthesiologists, Society for Cardiovascular Angiography andInterventions, Society of Interventional Radiology, Society of ThoracicSurgeons, and Society for Vascular Medicine. Circulation. 2010;121(13):e266-369.doi:10.1161/CIR.0b013e3181d4739e.
6. Baikoussis NG, Antonopoulos CN, Papakonstantinou NA, Argiriou M,Geroulakos G. Endovascular stent grafting for ascending aorta diseases. J VascSurg. 2017 Nov;66(5):1587-601. doi:10.1016/j.jvs.2017.07.064. [MedLine]
7. Saadi EK, Almeida RMS, AC Zago. Endovascular Treatment of AscendingAorta: The Last Frontier? In: Wilbert S. Aronow, ed. Artery Bypass. IntechOpen.2013. pp. 413-24. doi:10.5772/55149. Available from: http://www.intechopen.com/books/artery-bypass/endovascular-treatment-of-ascending-aorta-the-last-frontier
8. Erbel R, Aboyans V, Boileau C, Bossone E, Bartolomeo RD, EggebrechtH, et al. ESC Committee for Practice Guidelines. 2014 ESC Guidelines on thediagnosis and treatment of aortic diseases: Document covering acute and chronicaortic diseases of the thoracic and abdominal aorta of the adult. The Task Forcefor the Diagnosis and Treatment of Aortic Diseases of the European Society ofCardiology (ESC). Eur Heart J. 2014;35(41):2873-926.doi:10.1093/eurheartj/ehu281.
9. Roselli EE, Idrees J, Greenberg RK, Johnston DR, Lytle BW.Endovascular stent grafting for ascending aorta repair in high-risk patients. JThorac Cardiovasc Surg. 2015;149(1):144-51.doi:10.1016/j.jtcvs.2014.07.109.
10. Plichta RP, Hughes GC. Thoracic endovascular aortic repair for theascending aorta: experience and pitfalls. J Vis Surg. 2018 May 9;4(5):92.doi:10.21037/jovs.2018.03.01.
11. Almeida RMSSA. The cardiovascular surgeon as an interventionist. RevBras Cir Cardiovasc. 2009;24(2 Supl):35s-37s.doi:10.1590/S0102-76382009000300005. [MedLine]
12. Lu Q, Feng J, Zhou J, Zhao Z, Bao J, Feng R, et al. Endovascularrepair of ascending aortic dissection: a novel treatment option for patientsjudged unfit for direct surgical repair. J Am Coll Cardiol. 2013;61(18):1917-24.doi:10.1016/j.jacc.2012.08.994.
13. Preventza O, Henry MJ, Cheong BYC, Coselli JS. Endovascular repairof the ascending aorta: when and how to implement the current technology. AnnThorac Surg. 2014;97(5):1555-60.doi:10.1016/j.athoracsur.2013.11.066.
14. Ronchey S, Serrao E, Alberti V, Fazzini S, Trimarchi S, Tolenaar JL,et al. Endovascular stenting of the ascending aorta for type A aorticdissections in patients at high risk for open surgery. Eur J Vasc Endovasc Surg.2013;45(5):475-80. doi:10.1016/j.ejvs.2013.01.033.
15. Muetterties CE, Menon R, Wheatley GH 3rd. A systematic review ofprimary endovascular repair of the ascending aorta. J Vasc Surg.2018;67(1):332-42. doi:10.1016/j.jvs.2017.06.099. [MedLine]
16. Sobocinski J, O'Brien N, Maurel B, Bartoli M, Goueffic Y,Sassard T, et al. Endovascular approaches to acute aortic type A dissection: aCT-based feasibility study. Eur J Vasc Endovasc Surg. 2011;42(4):442-7.doi:10.1016/j.ejvs.2011.04.037.
17. Moon MC, Greenberg RK, Morales JP, Martin Z, Lu Q, Dowdall JF, etal. Computed tomography-based anatomic characterization of proximal aorticdissection with consideration for endovascular candidacy. J Vasc Surg.2011;53(4):942-9. doi:10.1016/j.jvs.2010.10.067.
18. Piffaretti G, Grassi V, Lomazzi C, Brinkman WT, Navarro TP, Jenkins MP, et al. GREAT participants. Thoracic endovascular stent graft repair for ascending aortic diseases. J Vasc Surg. 2019:S0741-5214(19)30349-0. doi:10.1016/j.jvs.2019.01.075.
19. Murakami T, Nishimura S, Hosono M, Nakamura Y, Sohgawa E, Sakai Y, et al. Transapical endovascular repair of thoracic aortic pathology. Ann Vasc Surg. 2017;43:56-64. doi:10.1016/j.avsg.2016.10.054. [MedLine]
20. Tsilimparis N, Debus ES, Oderich GS, Haulon S, Terp KA, Roeder B, et al. International experience with endovascular therapy of the ascending aorta with a dedicated endograft. J Vasc Surg. 2016 Jun;63(6):1476-82. doi:10.1016/j.jvs.2015.12.027. [MedLine]
21. Jaussaud N, Chitsaz S, Meadows A, Wintermark M, Cambronero N, Azadani AN, et al. Acute type A aortic dissection intimal tears by 64-slice computed tomography: A role for endovascular stent-grafting? J Cardiovasc Surg (Torino). 2013;54(3):373-81. [MedLine]
22. Khoynezhad A, Donayre CE, Walot I, Koopmann MC, Kopchok GE, White RA. Feasibility of endovascular repair of ascending aortic pathologies as part of an FDA-approved physician-sponsored investigational device exemption. J Vasc Surg. 2016;63(6):1483-95. doi:10.1016/j.jvs.2015.12.029. [MedLine]
23. Roselli EE, Idrees JJ, Johnston DR, Eagleton MJ, Desai MY, Svensson LG. Zone zero thoracic endovascular aortic repair: A proposed modification to the classification of landing zones. J Thorac Cardiovasc Surg. 2018;155(4):1381-9. doi:10.1016/j.jtcvs.2017.11.054.
24. Tsilimparis N, Drewitz S, Detter C, Spanos K, von Kodolitsch Y, Rohlffs F, et al. Endovascular repair of ascending aortic pathologies with tubular endografts: A single-center experience. J Endovasc Ther. 2019Aug;26(4):439-44. doi:10.1177/1526602819852083.
25. Wang C, Regar E, Lachat M, von Segesser LK, Maisano F, Ferrari E. Endovascular treatment of non-dissected ascending aorta disease: a systematic review. Eur J Cardiothorac Surg. 2018;53(2):317-24. doi:10.1093/ejcts/ezx308.
26. Rylski B, Szeto WY, Bavaria JE, Branchetti E, Moser W, Milewski RK. Development of a single endovascular device for aortic valve replacement and ascending aortic repair. J Card Surg. 2014;29(3):371-6. doi:10.1111/jocs.12348. [MedLine]
27. Saadi EK, Moura LD, Zago A, Zago A. Endovascular repair of ascending aorta and coronary stent implantation. Rev Bras Cir Cardiovasc. 2011;26(3):477-80. doi:10.5935/1678-9741.20110025. [MedLine]
No financial support.
No conflict of interest.
Authors' roles & responsibilities
EKS Substantial contributions to the conception or design of the work; or the acquisition, analysis, or interpretation of data for the work; final approval of the version to be published
APT Substantial contributions to the conception or design of the work; or the acquisition, analysis, or interpretation of data for the work; final approval of the version to be published
RMSA Substantial contributions to the conception or design of the work; or the acquisition, analysis, or interpretation of data for the work; final approval of the version to be published
Article receive on Wednesday, August 7, 2019
Article accepted on Saturday, August 17, 2019