"Let's keep going" - this expression, written by hand below the abovementioned quote from T. Roosevelt and left on my desk by Prof. Ivo Nesralla, two days after the death of the first heart transplant patient, at the resumption of transplants in South America (1984), reflects the spirit that guided his life and his legacy. Courage, boldness, and fearlessness associated with charisma, determination, tolerance, resilience, leadership, and the ability to bring together talents and motivate teamwork in search of goals and objectives, motivated only by the ideal that it needed to be achieved, were some of his qualities.
Ivo Nesralla was born in Porto Alegre, in August/18/1938. Son of Nazime and José Nesralla, Lebanese immigrants, he was married to Paula Anita de Mello Nesralla and father of Carlos, Ivo Junior, and Paula, being grandfather of Guilherme, Mariana, Joana, and Vicente.
He joined the Faculdade de Medicina of the Universidade Federal do Rio Grande do Sul (UFRGS) in 1957.
He started his career in cardiac surgery in 1962, as an intern at the Department of Surgery of Santa Casa de Misericórdia de Porto Alegre, then a teaching hospital of the Faculdade de Medicina of UFRGS.
In 1965, as a young cardiovascular surgeon, recently graduated and finishing his training at the former Instituto de Cardiologia do Estado de São Paulo (now Instituto Dante Pazzanese de Cardiologia), Dr. Ivo Nesralla proposed to build a new surgical center dedicated to congenital heart diseases, with resources from a private donation raised by him[1].
With these resources, a foundation was created, and an agreement was signed with the State Health Secretariat to manage the Instituto de Cardiologia (IC). Perhaps the first public-private health partnership in the country was established - the Fundaçao Universitária de Cardiologia (FUC). It opened its doors in 1968 and performed its first cardiac surgery, a pericardiectomy, in May 1969.
In the surgical area, the IC/FUC served 25% of indigent people, a category that included people without resources and without social security coverage, who would only be supported years later by an official social security system. Hospital expenses for these surgeries were borne by the Fundo de Assistência à Cirurgia Cardíaca (FACCA), a philanthropic assistance organization, supported by donations. There was no charge for professional fees by doctors. The President of FACCA was Paula Anita Linck de Mello Nesralla, Prof. Ivo Nesralla's wife. The institution grew and today it is a hospital with more than 250 beds for Cardiology. It has performed more than 40,000 cardiac surgical procedures and more than 100 heart transplants. It became an internationally recognized Research Center and Higher Education Institution, a status equivalent to Universities, besides being one of the teaching hospitals of the Universidade Federal de Ciências da Saúde de Porto Alegre (UFCSPA), with technical education, undergraduate, medical residency, post-graduate, and post-doctorate. Since 1988, it has a recognized Post-Graduation Program and a research structure responsible for several pioneer achievements, such as the first clinical trial of gene therapy conducted in Latin America. Other examples of pioneer achievements in the assistance area were the first cardiac intensive care unit, the first surgeries on neonates, surgeries on coronary arteries, the first coronary angioplasties, heart transplants, the first left ventricular assistance device implanted in Brazil (1999), first arrhythmia surgeries, and first robotic cardiac surgery in South America (2000)[2-4].
Dr. Ivo Nesralla held the position of chief executive officer of IC/FUC of Rio Grande do Sul (Figure 1) from 1993 to 2017.
Fig. 1 - Prof. Ivo Nesralla next to the window of his office at the Instituto de Cardiologia of Rio Grande do Sul/Fundação Universitária de Cardiologia.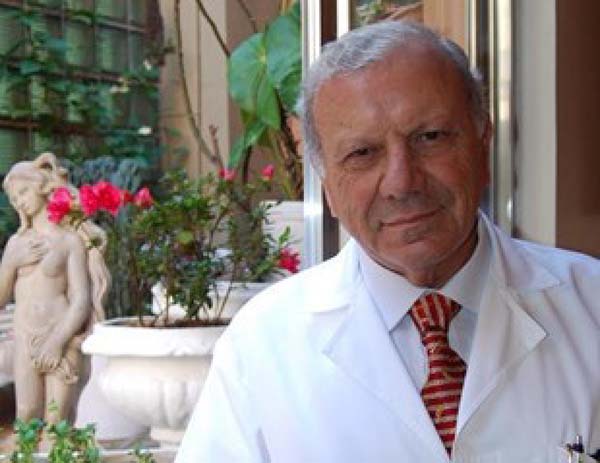 In 1969, he assumed as Head of the Cardiovascular Surgery Service of UFRGS Surgery Department, while concurrently put into operation the Cardiovascular Surgery Service of IC/FUC of Rio Grande do Sul.
In 1976, Prof. Ivo Nesralla received the titles of Full Professor and Doctor in Sciences, through public exams and titles. In that year, he assumed the Regency of the Discipline of Cardiovascular Surgery at the Department of Surgery of UFRGS.
In December 1981, he was invited to organize the Cardiac Surgery Service at the Hospital de Clínicas de Porto Alegre, opening it in March 1982.
In December 1986, Prof. Ivo Nesralla held a public exam selection to fill a vacancy for Full Professor of Surgery, in the Department of Surgery of UFRGS.
1. Kalil, R. O Tripé e a Árvore. Published in the Zero Hora Newspaper,Porto Alegre, Oct 06, 2016. Accessible in: https://gauchazh.clicrbs.com.br/opiniao/noticia/2016/10/renato-a-k-kalil-o-tripe-e-a-arvore-7681317.html
2. Nesralla IA. Criação e Evolução da Cirurgia Cardíaca no IC-FUC. In:Rubem Rodrigues. (org.). Cardiologia - 30 anos. São Paulo: 1999, v. 1, p.361-369.
3. Nesralla IA, Fragomeni LSM; Kriett J; Jamieson S. TransplanteCardiopulmonar. In: Garcia V; Abbud Filho M, Neumannn J, Pestana JM. (Org.).Transplante de Órgãos e Tecidos. 2ª. Ed. São Paulo: Segmentofarma, 2006, v. 1,p. 638-650
4. Nesralla IA, Costa AR, Sant'Anna JRM. Transplante Cardíaco. In:Castro I. (Org.). Cardiologia: Princípios e Prática. Porto Alegre: Artes MédicasSul, 1999, v., p. 1074-1081.
5. Nesralla IA. Cardiologia Cirúrgica: Perspectivas Para o Ano 2000.1ª. Ed. São Paulo: Fundação BYK-Procienx, 1994. 671p
6. Nesralla IA. A Música Como Símbolo da Paz. In: Zielinsky IB,Trevisan A, Camargo D, Brasil JV. (Org.). Paz. Um Vôo Possível. 1ª. Ed. PortoAlegre: Age Editora, 2004, v. 1, p. 97-100.
7. Nesralla IA. Medicina - a Mais Importante das Artes. A Arte da Vida.In: Pinheiro-Machado I. (Org.). Prazeres e Riscos. Porto Alegre, 2001, v. 1, p.171-179.