ABSTRACT
In the growing era of transcatheter aortic valve implantation, it is crucial to develop minimally invasive surgical techniques. These methods enable easier recovery from surgical trauma, especially in elderly and frail patients. Minimally invasive aortic valve replacement (MIAVR) is frequently performed via upper hemisternotomy. We describe MIAVR via right anterior thoracotomy, which is associated with less trauma, rapid mobilization, lower blood transfusion rates, and lower risk of postoperative wound infections. As minimally invasive procedures tend to take longer operative times, we suggest using rapid-deployment valve prostheses to overcome this limitation. This description focuses on the technical aspects and preoperative assessment.
ABBREVIATIONS AND ACRONYMS
CPB = Cardiopulmonary bypass
CT = Computer tomography
ICU = Intensive care unit
MIAVR = Minimally invasive aortic valve replacement
RAT = Right anterior thoracotomy
TAVI = Transcatheter aortic valve implantation
TEE = Transesophageal echocardiography
Since its first description in 1996[1], minimally invasive aortic valve replacement (MIAVR) has been gaining popularity in cardiothoracic surgery. Thanks to its minimally invasive nature and low surgical trauma with excellent cosmetic results, both the patients and referring physicians are favoring MIAVR over the conventional procedure via median sternotomy. Indeed, various studies show equivalent or even superior outcomes of MIAVR compared to conventional surgery[2]. Additionally to the excellent cosmetic result, numerous studies report a decrease in blood transfusions, shorter intensive care unit (ICU) length of stay, and reduction in the rates of wound infections as well as postoperative pain after MIAVR, with no difference in postoperative mortality[3]. Furthermore, right anterior thoracotomy (RAT), with preservation of the sternum, has been proposed as an even less invasive method of MIAVR. Here, we describe our RAT approach using sutureless aortic valve prosthesis to achieve the best functional and cosmetic results without prolonging operative time. All patients consented for the surgery and use of their anonymized data for future research and publications. Data and materials are available for consultation. We also present our concept of simplifying preoperative imaging to achieve the optimal planning of the procedure.
DISCUSSION
Over the last two decades, tendencies in surgical valve procedures are rapidly shifting towards minimally invasive strategies. In the growing era of transcatheter aortic valve implantation (TAVI), surgical procedures are being challenged by faster patients' mobilization, shorter ICU and in-hospital length of stay, and less surgical trauma offered by TAVI.
Although MIAVR is often associated with longer operative and cross-clamping times, it has proven to be a feasible and safe procedure with lower postoperative mortality even in high-risk and elderly patients[5,6]. Indeed, not only does RAT maintain the sternum stability, providing the rapid mobilization, but it also prevents postoperative bleeding and provides lower blood transfusion rates and shorter ICU length of stay[7]. Cross-clamping time is known to be an independent predictor of morbidity and mortality in cardiac surgery. By combining the RAT approach with sutureless valve prostheses, we were able to drastically reduce the operative and cross-clamping times[8]. Through conventional central cannulation in most cases with low profile cannulas, we tend to avoid the groin complications associated with the cannulation of the groin vessels and longer immobilization.
During the preoperative planning, some groups[9] use a chest CT to map the incision height. With our growing experience using RAT, we shifted from this concept to using echocardiography and X-ray to plan chest cavity access. CT-scan is performed only in the case of X-ray or echocardiography showing any abnormalities that could complicate the RAT access. This concept helps us spare time and reduce costs and radiation exposure.
Additionally, the RAT approach provides excellent cosmetic results with less pain and faster return to work, thus, improving patients' satisfaction (Figures 3A and B).
Fig. 3 - Cosmetic result of minimally invasive aortic valve replacement via right anterior thoracotomy approach. A) 1, 5-cm incision; 2, chest tube; B) 1, 5-cm incision; 2, chest tube.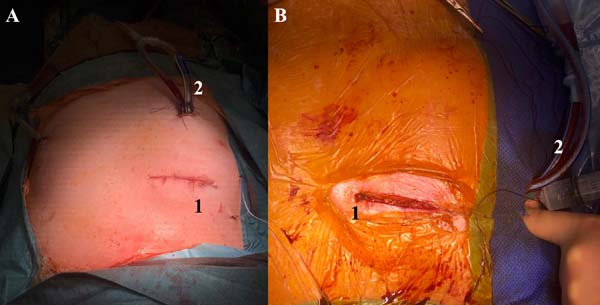 Although surgeons have to go through the learning curve in order to perform MIAVR via the RAT approach, it can still be safely performed with an excellent hemodynamic profile and a low rate of postoperative complications.
In modern cardiac surgery, it is crucial to develop minimally invasive procedures. Based on our experience, RAT approach in combination with sutureless valve prosthesis provide excellent results. Operative and cross-clamping times, surgical trauma, blood transfusion, and ICU/in-hospital length of stay are kept low.
Preoperative imaging and careful planning are the key to success in MIAVR. Moreover, by using central cannulation, some groin complications can be easily avoided without impairing the surgical access to the valve. The superior cosmetic result provides higher patients' and referring physicians' satisfaction.
REFERENCES
1. Cosgrove DM 3rd, Sabik JF. Minimally invasive approach for aortic valve operations. Ann Thorac Surg. 1996;62(2):596-7.
2. Bowdish ME, Hui DS, Cleveland JD, Mack WJ, Sinha R, Ranjan R, et al. A comparison of aortic valve replacement via an anterior right minithoracotomy with standard sternotomy: a propensity score analysis of 492 patients. Eur J Cardiothorac Surg. 2016;49(2):456-63. doi:10.1093/ejcts/ezv038.
3. Stolinski J, Plicner D, Grudzien G, Wasowicz M, Musial R, Andres J, et al. A comparison of minimally invasive and standard aortic valve replacement. J Thorac Cardiovasc Surg. 2016;152(4):1030-9. doi:10.1016/j.jtcvs.2016.06.012.
4. Mashhour A, Zhigalov K, Szczechowicz M, Mkalaluh S, Easo J, Eichstaedt H, et al. Snugger method - the Oldenburg modification of perceval implantation technique. World J Cardiol. 2018;10(9):119-22. doi:10.4330/wjc.v10.i9.119. [MedLine]
5. Glauber M, Miceli A, Gilmanov D, Ferrarini M, Bevilacqua S, Farneti PA, et al. Right anterior minithoracotomy versus conventional aortic valve replacement: a propensity score matched study. J Thorac Cardiovasc Surg. 2013;145(5):1222-6. doi:10.1016/j.jtcvs.2012.03.064.
6. 6Lamelas J, Sarria A, Santana O, Pineda AM, Lamas GA. Outcomes of minimally invasive valve surgery versus median sternotomy in patients age 75 years or greater. Ann Thorac Surg. 2011;91(1):79-84. doi:10.1016/j.athoracsur.2010.09.019. [MedLine]
7. Sabry H, Baltabaeva A, Gkikas A, Valencia O, Sarri G, Mirsadraee S, et al. Rapid deployment aortic valve replacement through anterior right thoracotomy: clinical outcomes and haemodynamic performance. J Card Surg. 2020;35(7):1420-4. doi:10.1111/jocs.14585. [MedLine]
8. Mashhour A, Zhigalov K, Mkalaluh S, Szczechowicz M, Easo J, Eichstaedt HC, et al. Outcome of a modified perceval implantation technique. Thorac Cardiovasc Surg. 2020;68(7):602-7. doi:10.1055/s-0039-1685512. [MedLine]
9. Van Praet KM, van Kampen A, Kofler M, Richter G, Sündermann SH, Meyer A, et al. Minimally invasive surgical aortic valve replacement: the RALT approach. J Card Surg. 2020;35(9):2341-6. doi:10.1111/jocs.14756. [MedLine]
No financial support.
No conflicts of interest.
Authors' roles & responsibilities
AZ Substantial contributions to the conception or design of the work; or the acquisition, analysis, or interpretation of data for the work; drafting the work or revising it critically for important intellectual content; agreement to be accountable for all aspects of the work in ensuring that questions related to the accuracy or integrity of any part of the work are appropriately investigated and resolved; final approval of the version to be published
KZ Substantial contributions to the conception or design of the work; or the acquisition, analysis, or interpretation of data for the work; drafting the work or revising it critically for important intellectual content; agreement to be accountable for all aspects of the work in ensuring that questions related to the accuracy or integrity of any part of the work are appropriately investigated and resolved; final approval of the version to be published
BS Substantial contributions to the conception of the work; agreement to be accountable for all aspects of the work; final approval of the version to be published
AAR Substantial contributions to the conception of the work; agreement to be accountable for all aspects of the work; final approval of the version to be published
RV Substantial contributions to the conception of the work; agreement to be accountable for all aspects of the work; final approval of the version to be published
DW Substantial contributions to the conception of the work; agreement to be accountable for all aspects of the work; final approval of the version to be published
AR Substantial contributions to the conception of the work; agreement to be accountable for all aspects of the work; final approval of the version to be published
AW Agreement to be accountable for all aspects of the work in ensuring that questions related to the accuracy or integrity of any part of the work are appropriately investigated and resolved; final approval of the version to be published
Article receive on Saturday, July 25, 2020
Article accepted on Wednesday, July 29, 2020