CLINICAL DATA
The case of an 11-year-old girl weighing 33 kg is reported. Since birth she suffered from dyspnea and crying during breastfeeding. At 6 years of age she was submitted to repair of a perimembranous ventricular septal defect using a pericardium patch. Two months after, she suffered a significant pericardial effusion requiring another intervention for drainage. At 8 years of age, she started suffering from repeated headaches and high arterial pressure; aortic coarctation with a mean gradient of 108 mmHg was diagnosed at echocardiography. She underwent a cineangiography which located coarctation across the subclavian artery root and identified moderate aortic arch hypoplasia. In October 2006, she was admitted to hospital with acute ruptured appendicitis, peritonitis and sepsis. She evolved in a state of glomerulonephritis and three positive blood cultures showed oxacillin-sensitive Staphylococcus aureus. An echocardiographic investigation demonstrated bacterial endocarditis with vegetation adhered to the septal wall of the right ventricle. She responded well to antibiotic treatment. At preoperative physical examination she presented asymptomatic taking captopril and furosemide. Her heart rhythm was regular with a heart rate of 64 bpm, systolic murmur of ++/4+ at an accessory aortic focus. The lungs were clear. The abdomen was unaltered but with scarring. The arterial pressure was 120 x 70 mmHg (right arm) and 100 x 60 mmHg (Left arm) and 50 x 20 mmHg at (Lower limbs).
ELECTROCARDIOGRAM
An electrocardiogram showed sinus rhythm with a heart rate of 60 bpm, SÂP at +60º, SÂQRS at +60º, PR interval of 0.12s, QRS of 0.10s and QTc 0f 0.37s. Additionally significant left ventricular overload was identified by the R wave at V5 of 42 mm and S wave at V2 of 25 mm.
RADIOGRAM
A radiogram showed the cardiac area within the normal range with a cardiothoracic ratio of 0.51. The pulmonary fields were unaltered.
ECHOCARDIOGRAM
The preoperative echocardiogram demonstrated aortic coarctation located after the root of the subclavian artery with a maximum gradient of 70 mmHg and anterograde flow during diastole denoting important hemodynamic repercussions. The diameter of the ascending aorta was 15 mm, the aortic arch was 10 mm, at the site of the stenosis it was 4.4 mm and after the coarctation it was 12 mm. The ventriculoseptal repair patch was well positioned. No vegetations were identified.
DIAGNOSIS
Note that the original echocardiogram three years previously demonstrated a gradient of 108 mmHg and the preoperative examination showed a gradient of 70 mmHg. This difference is not normally provided by the procedure performed at that time. However the image of catheterism (Figure 1) identified only normal aortic coarctation.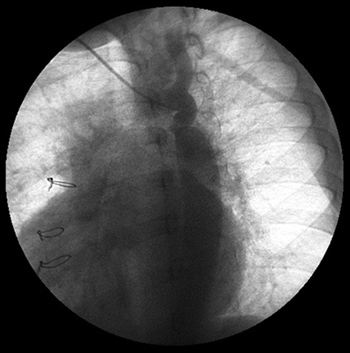 Fig. 1 - Cineangiographic study clearly demonstrating the coarcted region
OPERATION
The patient was placed in the right lateral decubitus position. Left lateral-posterior thoracotomy was performed in the 4th left intercostal space and extensive pleuropulmonary adherences were found. Ample dissection was performed with opening of the parietal pleura to expose the aortic arch, left subclavian artery, descending aorta and a large aneurysm (Figure 2) making it necessary to ligate two intercostal arteries involved in the aneurysm. Without cardiopulmonary bypass, proximal and distal clamping of the coarcted region was performed and the aneurysm was opened where chronic vegetations were found (Figure 3). The aorta was sectioned at a sharp angle next to the arch and crosswise in the distal portion at the descending aorta. A number 22 woven polyester with bovine collagen tubular graft was implanted with 5-0 polypropylene running stitches (Figure 4). The aortic clamping time was 24 minutes. The thorax was closed as normal [1,2] after draining. The patient was transferred to the intensive care unit taking nitroprussiate and extubated without neurological disorders. An echocardiogram after hospital release demonstrated good positioning of the graft with no gradient or vegetations.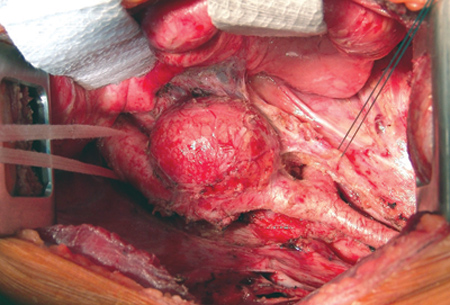 Fig. 2 - Initial aspect after dissection of the adherences - Note the large aneurysm close to the coarctation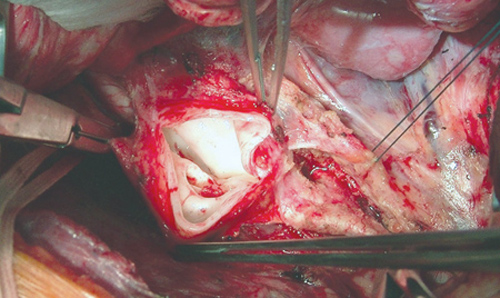 Fig. 3 - Open aneurysm with vegetations inside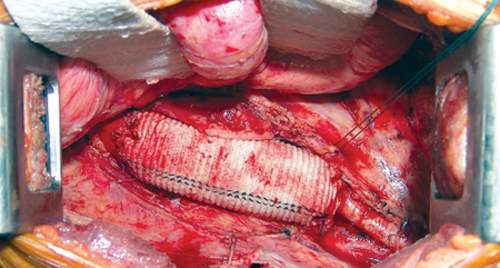 Fig. 4 - Aspect of the graft implanted between the aortic arch and descending aorta
REFERENCES
1. Salles CA, Silva RRP, Borém PM, Casagrande ISJ, Moreira MCV, Gusmão JB, et al. Reconstrução da aorta com conduto de pericárdio bovino corrugado. Rev Bras Cir Cardiovasc 1998;13(2):131-40.
2. Lisboa LAF, Abreu Filho CAC, Dallan LAO, Rochitte CE, Souza JM, Oliveira SA. Tratamento cirúrgico da coarctação do arco aórtico em adulto: avaliação clínica e angiográfica tardia da técnica extra-anatômica. Rev Bras Cir Cardiovasc. 2001;16(3):187-94.