Mauro Barbosa Arruda, a pioneer in cardiac surgery, passed away at the age of 89 years on July 21, 2020, at the Real Hospital Português, in Recife, Brazil. It was the same hospital where he implemented a cardiology service of national reference and, in particular, for the Brazilian North-Northeast region. We lost a friend, a teacher, and a surgeon of unique ability.
Born on October 23, 1930, in the state of Pernambuco, he was the third child of four siblings. He started his studies and, at the age of 14, he moved with his family to Recife to finish high school. He needed to find work and to study at the same time, starting at the Companhia Antártica Paulista, in 1947, as a biller, and at the State Health Secretariat in 1948. He joined the Faculty of Medicine of Recife on the following year, just as he started his main life partnership, which lasted 72 years, with Maria Consuelo Monteiro ("Ciêlo"), with whom he built a beautiful family since 1956. This union resulted in two daughters, Flávia and Cláudia, one son, Mauro Filho, six grandchildren, and eight great-grandchildren.
It was in an ebullient scenario, in the 1940s-50s, that the initial milestone of cardiac surgery was established in the world, in Brazil, and especially in the Brazilian Northeast region. In this period, a young doctor stood out: a surgeon who adopted cardiac surgery as his instrument to practice an art. In 1951, at the Hospital Oswaldo Cruz, the birthplace of the University of Pernambuco, the first cardiac surgery in the Brazilian Northeast region was performed by the imminent surgeon Joaquim Cavalcanti, assisted by the young doctor Mauro Arruda. Thus, a close connection was created between his professional life and cardiothoracic surgery. With a unique zest, a surgeon began to emerge, who later would surpass the limits of just being a good surgeon and start to occupy the spot reserved for creators. With a surgical skill rarely observed and recognized by all, Dr. Mauro managed to transform what seemed to be almost impossible into resolved situations. A real genius! That was Mauro Arruda.
First Contact with the Heart
Still as a student at the end of the 4th year of medical school, in 1952, Dr. Mauro went to the Hospital Oswaldo Cruz to meet Professor Joaquim Cavalcanti, who soon welcomed him as a member of the team, and thus his relationship with surgery began. Immediately and excited about the art of surgery, he started his internship at the thoracic surgery service. He realized that it was a unique, pleasant environment, where cordiality and seriousness reigned. During his medical internship, Mauro got to know an environment where he learned that medicine could be practiced with no financial interest, treating wealthy and poor people in the same way. After receiving his medical degree from the Faculty of Medicine of the University of Recife, in December 1954, he continued in the service and participated in the construction of the Malaquias Gonçalves Pavilion, which became the birthplace of cardiac surgery in the Brazilian North-Northeast region. He participated directly in the first mitral commissurotomy and the first systemic pulmonary shunt in the state of Pernambuco. The first child operated on by Prof. Joaquim, diagnosed with tetralogy of Fallot, underwent a Blalock-Taussig anastomosis, with Mauro as one of the main assistants in the procedure. It was at that moment that he established his name as one of the pioneers in the history of cardiovascular surgery in Brazil. During the period from 1952 to 1956, initially as a doctorate student and then as a physician, he had the opportunity to learn the art of cardiothoracic surgery. He actively participated in the initial development of Brazilian cardiac surgery until 1956, when the thoracic surgery in Pernambuco was orphaned with the death of its mentor Joaquim Cavalcanti.
- Professor Mauro Arruda receiving his medical degree in 1954.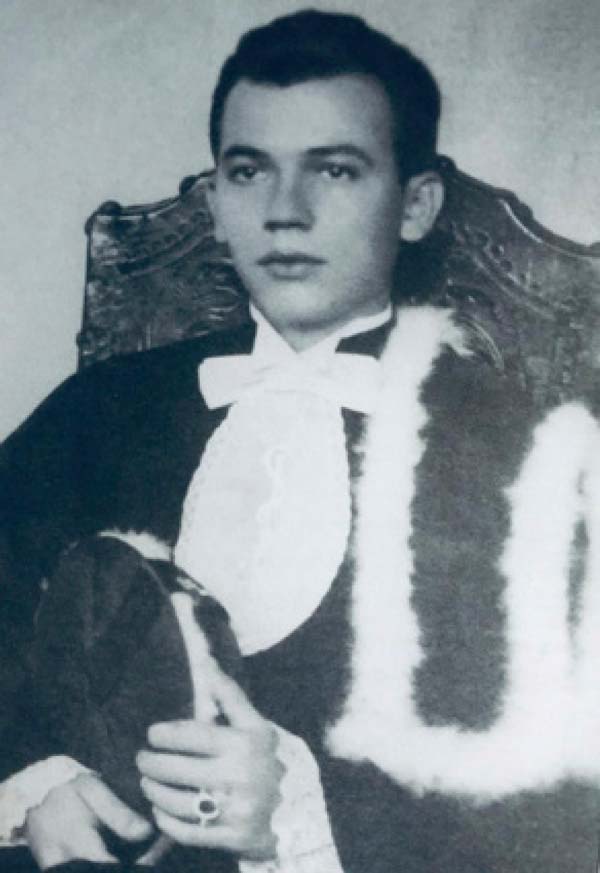 During the Brazilian Congress of Cardiology in Recife, in 1956, Dr. Mauro presented two papers: "Tetralogy of Fallot, clinical evolution of five operated cases" and "On a case of pulmonary arteriovenous fistula and concomitant mitral stenosis". This congress was attended by Prof. E J Zerbini to whom clinical cases of possible surgical resolution were presented, including a mediastinal tumor. Prof. Zerbini requested an angiography and the young Dr. Mauro immediately offered himself to take on that challenge at the time. The examination, done by hand, revealed a brachycephalic trunk aneurysm, successfully operated by Prof. Zerbini at Hospital Otávio de Freitas. Back in São Paulo, Prof. Zerbini, after countless compliments to Mauro Arruda, invites him to be a fellow in his unit at the Hospital das Clínicas of the University of São Paulo Medical School with grants of Capes and Rockefeller Foundation.
In 1957, he began his experience with Prof. Zerbini, becoming his first resident physician, actively participating in the beginnings of open-heart surgery at the University of São Paulo Medical School. At that time, cardiopulmonary bypass (CPB) was performed on dogs in the experimental surgical laboratory of Hospital das Clínicas and there was an intense participation of the young fellow. This period was remarkable in the formation of his medical personality because, in addition to learning with the exceptional surgical quality from Prof. Zerbini, Dr. Mauro also learned from his enormous capacity for work and remarkable human qualities. Dr. Mauro participated in the expansion of cardiac surgery in Brazil and South America. He also participated in the creation of a homologous and heterologous arterial grafts bank, with grafts preserved in 96% alcohol, the Artery Bank of the University of São Paulo Medical School.
On his return to Recife, he fulfilled his commitment as a fellow with Capes and Rockefeller Foundation, starting as a researcher at the Institute of Cardiology of Hospital Dom Pedro II, this time under the guidance of Prof. Luiz Tavares. The objective was to establish open-heart surgery and, in parallel, Dr. Mauro assumed the position of thoracic surgeon at Hospital Oswaldo Cruz, and then at Hospital Otávio de Freitas.
At the Institute of Cardiology, Dr. Mauro began following the model of the University of São Paulo Medical School, with initial training of the entire team on the new surgical model and the creation of an experimental surgical unit. On April 11, 1960, the first atrial septal defect was successfully corrected, with the aid of CPB, with Luiz Tavares and Mauro Arruda as main surgeons. One year later, the first surgery to correct a ventricular septal defect with deep hypothermia and total circulatory arrest for 32 minutes was performed for the first time. After this achievement, the Institute of Cardiology became an active, productive center, responsible for the training of countless clinical cardiologists and surgeons, carrying out and publishing research.
In the years 1962-63, Dr. Mauro was awarded a grant from the Coopération Technique Internationale for an internship with Prof. Charles Dubost at Hospital Broussais and Hospital Marie Lannelongue, in Paris. He had active and intense participation in coronary surgery, in the implantation of mitral and aortic prostheses, and the surgical treatment of congenital heart diseases. Prof. Dubost asked him to stay in Paris, but Dr. Mauro preferred to return to Recife to carry out the work he had begun at Hospital Oswaldo Cruz and the Institute of Cardiology.